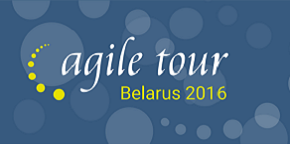 On
September 24 Agile Tour Belarus 2016
starts in Minsk. Agile enthusiasts will gather at the conference to spread the word about Agile practices and to share their experience, both good and bad, within local community. All speakers are managers of product and outsourcing IT-companies, international consultants and Agile-coaches. They all will share their case studies: locate real problems in their projects and find the best possible solutions.
The page of the conference: AgileTour.by
There you will find the detailed information about our speakers, their talks.
To know more, please contact us: lera@eventspace.by.
AGILE TOUR TALKS
1. Lean Organization, or what's slowing you down?
Tomasz Wykowski, Agile Coach and Certified Scrum Trainer
2. The "diseases" of Agile retrospectives and how to treat them
Denis Tuchin, Agile Coach at Sberbank of Russia
3. Lean Change Management - manage the changes like startup
Alexey Pikulev, Agile Coach, CSM/CSPO/CSP, Management 3.0 Trainer, ICAgile Trainer, Ph.D.
4. 5 team's supports or the minimum management
Vasiliy Savunov, Agile Coach at ScrumTrek
5. Hybrid Project Management: Excellence Behind a Buzzword
Laimonas Lileika, Head of PMO at Adform
6. "Killer apps" of (Agile) Project Management
Dmitriy Bibikov, PMO Agile Expert at SoftServe
7. How minions can help creating a complementary team and finding a bliss?
Vladimirs Ivanovs, Trainer-Consultant, IPMA-B, Assessor, ITIL Expert